Reward is on a mission to make everyday spending more rewarding. We do this by analysing billions of transactions from millions of customers to help them monetise their data without selling their identity.
We call this our Give-To-Get model.
The more information the consumer gives us, the more rewards they can get. In fact, in April 2022 we fulfilled our 5-year pledge to give £1bn back to consumers in rewards! As you can imagine, with big data comes big responsibilities so we work hard to ensure we're compliant with all the relevant governments and industry governing bodies around the world.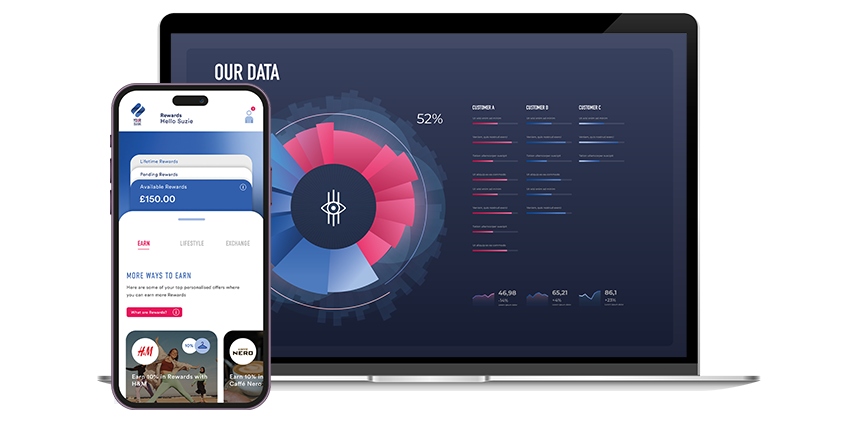 Reward analyses personal transactional, behavioural and geo-demographic data in order to operate our customer engagement programmes for global and local banks on three continents
To increase the consumers' earning potential and our investment in the platform, we anonymise the data and turn it into powerful insights for our partners who pay us to understand trend behaviours at an aggregate level – never to be able to identify an individual consumer
The vast proportion of our revenues are passed back to the consumer in the form of rewards so that we can achieve our next goal of giving back £2bn by 2025 (Give-To-Get model)
When analysing, we redact fields of personal data that are inherently identifiable.
more
Personal data is converted to broader characteristics, e.g. date of birth to broader age bands
Analysts are unable to detect whose data they are analysing
Consumers are 'grouped' into spend patterns based on similarity. more
This creates 'groups' of interest for retailers
Each spend pattern will, comprise large groups of consumers rather than focus on individual
PREDICTIVE RETAIL MODELLING
Analysts build predictive models for group behaviour in relation to each retailers offer criteria. more
Analysis occurs at 'group' level and is not focussed on individuals
We assign retail offers to the relevant customer groups. more
These are consumers most likely to engage with the offer
Analysis occurs at 'group' level and is not specific to individuals
Selected groups of consumers receive allocated offers via programme marketing channels. more
A confidential token is returned to the distribution software so that the correct offer is allocated to the correct group
The details of who received which offer are retained confidentially within the programme
Reward prepares reports so that retailers and banks can learn about trends and successful campaigns.
more
We aggregate results into summary figures to ensure that data cannot be subdivided
We use alternative anonymisation techniques e.g. random addition of noise, where further analysis may be required
What do Reward mean by personal data?
Personal data means details which identify or could be used to identify individuals, such as name and contact details, and information connected with their accounts such as purchase history.
It may also include information about a individuals interactions with programme websites and applications that we operate for financial institutions.
Who does Reward share consumers' personal data with?
Reward only shares personal data with:
The financial institution that Reward works for, in relation to a programme that a consumer is a member of, e.g. where a member has updated their contact details 
Subcontractors with the approval of the financial institution that Reward works for, e.g. the email distribution provider, if consumers have opted to receive email communications 
A party that the consumer has expressly authorised, to receive an additional service that the consumer has opted in to 
Other organisations that Reward works with will only ever receive fully anonymized data
How may consumers exercise their rights in relation to information that Reward holds on them?
As Reward generally only holds personal data as a processor in relation to programmes that it operates for financial institutions, consumers should make a request to the controller of the programme that they joined.
If we receive requests directly, we will consult with the institution that acts as the controller of the personal data within that programme context.

Copyright Sports Loyalty Card Limited 2021. All Rights Reserved
Reward is PCI Level 1 certified and assured by KPMG to ISAE3000 standards